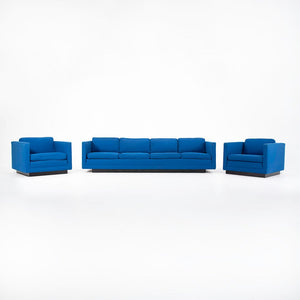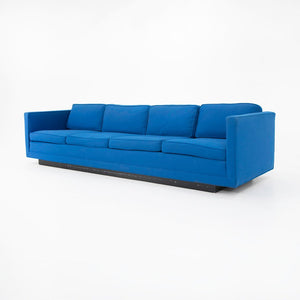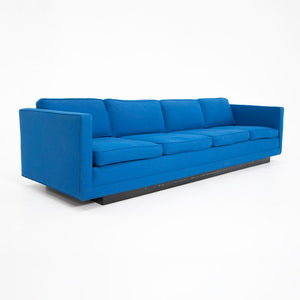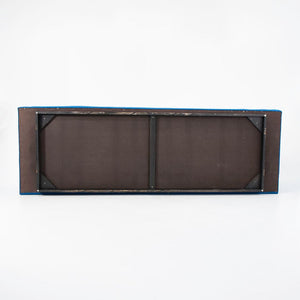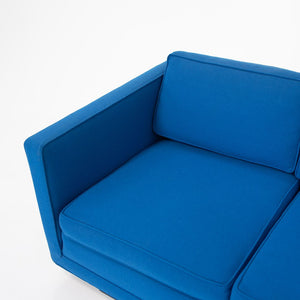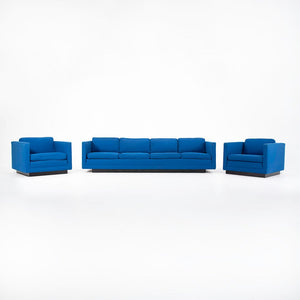 1970s Tuxedo Sofa Attributed to Nicos Zographos for Zographos Designs Ltd. in Blue Fabric
This is a four seat Tuxedo sofa, seemingly designed by Nicos Zographos and produced by Zographos Designs Inc. As the sofa is unmarked and many designers of this era produced similar pieces, its possible that the piece could be from Baughman or others, though we were able to most closely trace the detailing to club chair and sofa designs by Zographos (citing a club chair from Treadway auctions, which had an original Zographos label). The design features clean lines and a tailored silhouette in the traditional tuxedo-style. The piece possesses all the traits of a classic tuxedo sofa, but the addition of a black plinth base lends it a more modern feel.
The sofa measures approximately 110 inches long by 33.5 inches deep, and has a back height of 26 inches. The seat height is 16 inches. We have the coordinating pair of lounge chairs that are also available for purchase; please inquire for additional details. If specific dimensions are critical, please inquire and we will gladly get more accurate measurements.
The upholstery is in good condition with no large stains or damage. The frame is solid and the foam is good. This was manufactured in the 1970s and may show some signs of wear from use. Based on how clean and fresh the upholstery looks, we imagine that the sofa was either redone at some point or meticulously cared for.