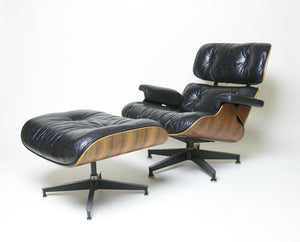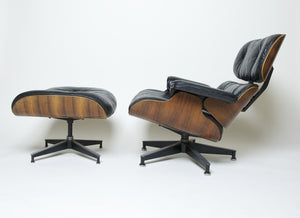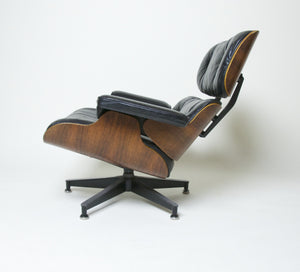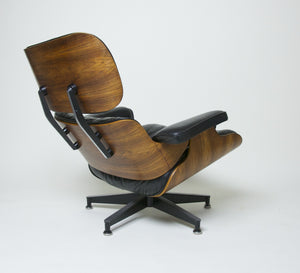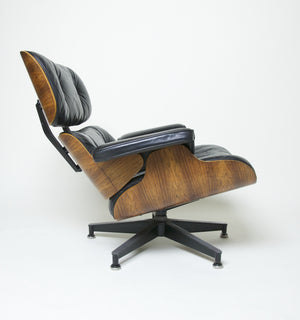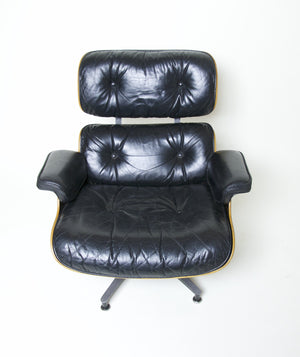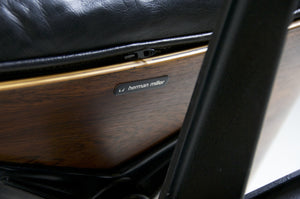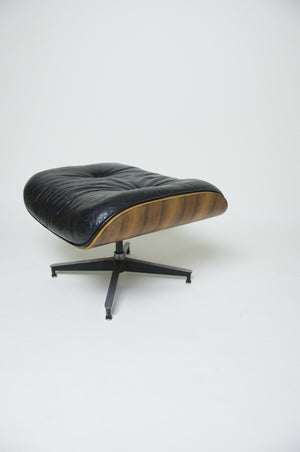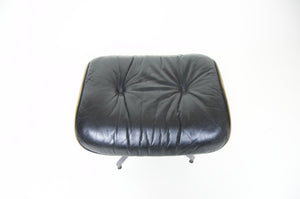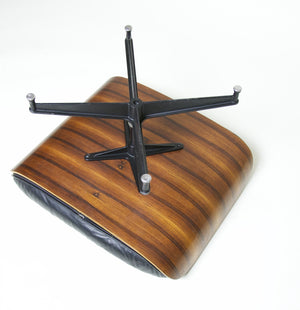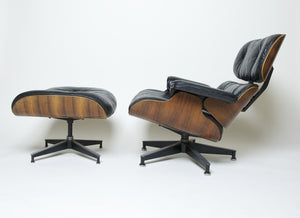 SOLD Herman Miller Eames Lounge Chair & Ottoman Rosewood 670 671
Up for auction is an original Herman Miller Eames lounge chair and ottoman. The set is in excellent condition with leather that has aged beautifully and rosewood that has an unusually lovely grain pattern. The Herman Miller label is still present on the chair. This chair appears to be from the mid 1970's and has some of the most comfortable cushions that I've experienced on one of these chairs. 
Cushions:
Overall, the cushions are in great shape. The backrests are immaculate, and armrests barely show their age. The seat cushion does have significantly more wear than the rest of the chair and that should be noted. Structurally, however, it seems great. There are no compromising tears or scratches. The ottoman cushion looks to be in similar condition to the backrests. 
Wood:
The rosewood shells are in excellent condition. The there are no major scratches on the faces that I can see and the finish feels smooth to the touch. A couple of light scratches are present under the chair, but aside from that, all looks to be well. There is also a nick in one corner of the headrest that is likely a result of the chair bumping the wall at one point in time. The chair's left side was professionally repaired at one point also, due to the shock mounts failing and wanting to take the wood with it. The shock mounts were thus replaced and chair was then repaired accordingly. 
Shock Mounts:
The shock mounts are in great shape and the chair still holds strong, without the leaning that can be found with other chairs that have failing mounts. 
Bases and Metal
The aluminum bases are in excellent condition. The feet move nicely, paint is all there, and aluminum looks great.