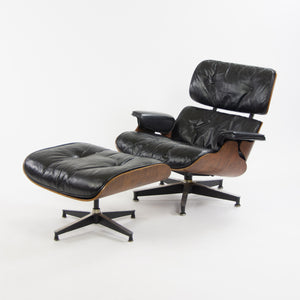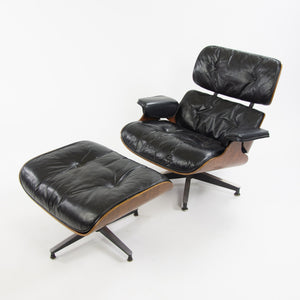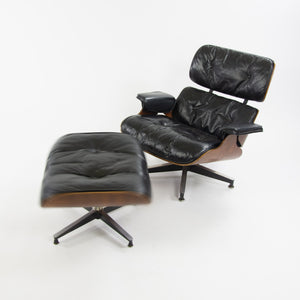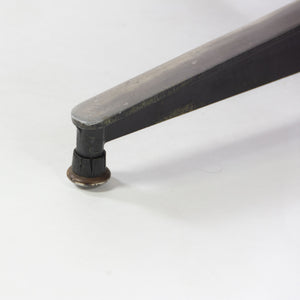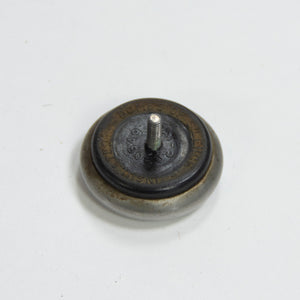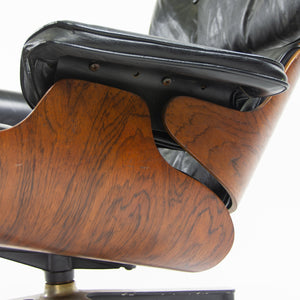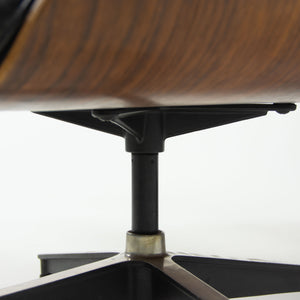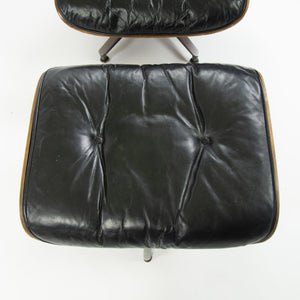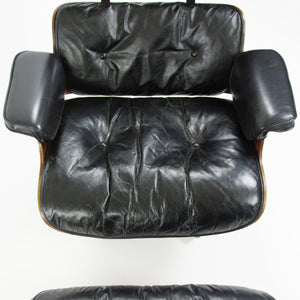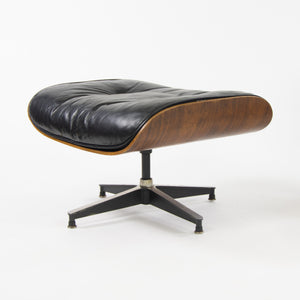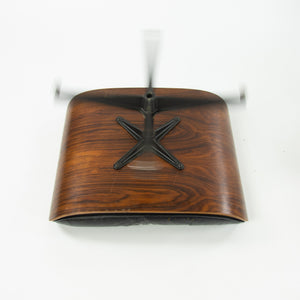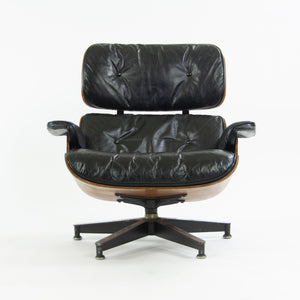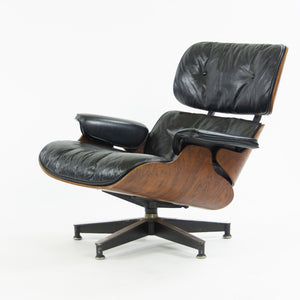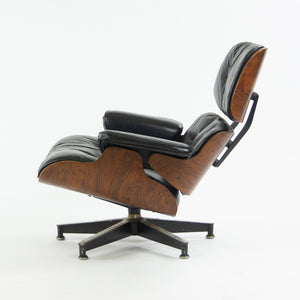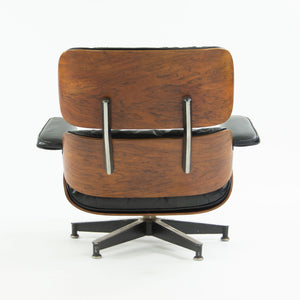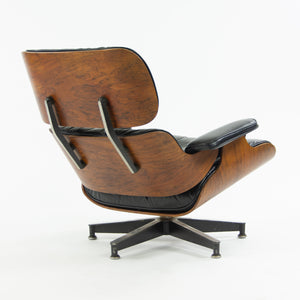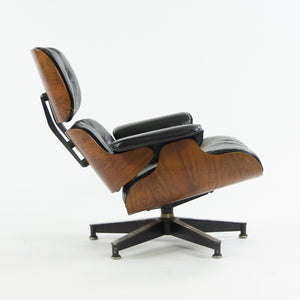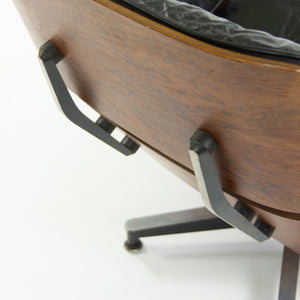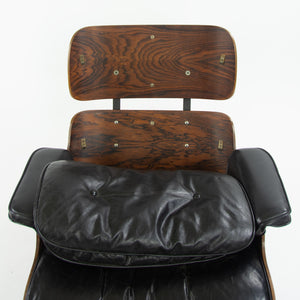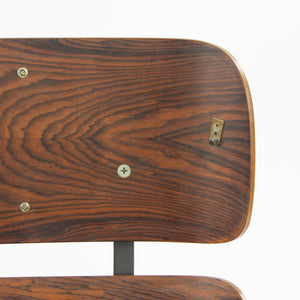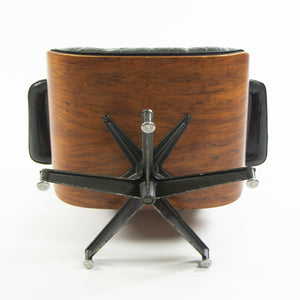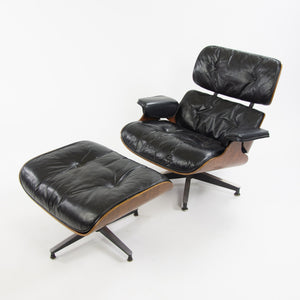 SOLD 1956 Holy Grail Herman Miller Eames Lounge Chair w Swivel Ottoman Boots 670 671
Listed for sale is the holy grail of Eames lounge chairs. It is a black leather lounge with swiveling ottoman from 1956, the first year of production and more so, what most believe to be the first month...perhaps less. These early examples are fabulously rare and can be identified by a few distinct characteristics. 
Early on, it was decided to use (slip on) boot glides on the ottoman. Within months, however, complaints came in about customers losing these boots and therefore a change was made during the same year to begin threading the ottoman underneath to allow for screw-in glides like the chair. This ottoman has no drilled threads underneath and was therefore made for boot glides.
Another detail was the swiveling ottoman. Allegedly, the feature was considered dangerous as children would spin around and possibly fall. Therefore... this too was changed, but far earlier than versions with just boot glides alone. It is believed that the swiveling ottoman was discontinued in the very earliest month perhaps weeks of production. 
Collectors often look for how many screws are found underneath the armrests of these Eames lounge chairs. Examples from 1957 and onward had two holes in a consistent position underneath. Earlier examples had three holes under the armrests, which includes examples with slip-on boot glides and some examples with swiveling ottomans. Before that, however, the sets had two screws oddly enough... though in a different position from the recent examples. This set has four screws, which tells me that these likely had armrests redone during the 60's and therefore two holes were added to the steel armrest mount in order to accommodate the re-positioned screws. This would make sense, as the very earliest examples were made with an even thinner glove-grade leather... known for deteriorating more quickly than the leather used later in the 50's and 60's. 
Two other highlights of this set include both the shock mounts on the back braces and the clips. The earliest iteration of Eames lounge chairs (of the era with swiveling ottomans) also had identically-sized rubber shock mounts across the three shocks on both back brackets. V1 of the Eames lounges had the same characteristics as what you see in this examples, whereas V2 of the swiveling ottoman examples had the larger sized shock mounts on the top of the back brackets... which has also remained consistent until today. 
The cushion clips on these V1 swiveling ottoman Eames lounges was also unique as compared to later Eames lounges. Note the shape and size of the clips, which is not found in later examples (regardless of whether they have a swiveling ottoman or not). V2 examples had cushion clips that matched production examples from 1956-1971. Only these V1 examples have different clips. 
Thread type was also changed for the threads of the Eames lounge chair's glide's. The early glides had 1/8 inch threaded steel, as the chair base was taken from the earlier Eames dining table design, which didn't have the same stress put on it. The glides were changed also during late 1956 to have 1/4 inch threaded steel to make them more robust. 
This example has all of these rare characteristics and can date it relatively precisely to the very beginning of 1956. Along with this, the chair features early round steel clips and down filled leather cushions. 
Cushions:
They are soft and properly plump for a chair of this vintage. No tears or rips are present on any of the cushions. These are down filled cushions and are beautifully worn. Patina and wear shows visibly. 
Wood:
The rosewood shells are in great shape aside from visible wear as noted in photos. The finish is lovely and holding up well.
Bases and Metal
The aluminum bases are in good condition. Paint is nicely patina'd. Glides are somewhat worn, but function nicely. 
Please let me know if photos of other details are desired.